Agent / Broker Merger & Acquisition Summary
Insurance agency Merger & Acquisition ("M&A") activity exploded during the 1st Quarter ("Q1") of 2017 with 185 reported transactions in the US and Canada and continued the stampede during the 2nd quarter with 135 transactions. The Q1-2017 activity was impacted, in part, from the formation of Alera Group, a new private-equity ("PE") backed firm that closed 24 separate deals on January 1, 2017, but it was still a record-setting pace without the Alera transactions.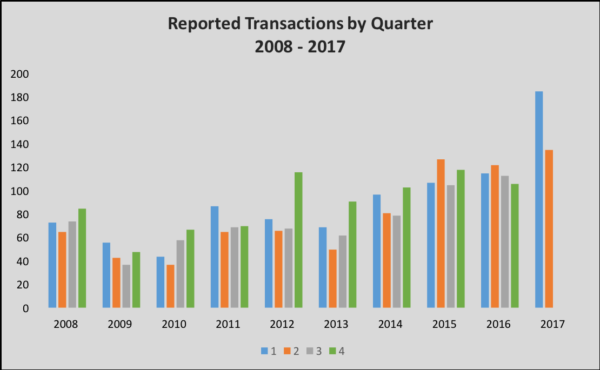 12 Month Transaction Totals
Looking at the transaction count on a rolling 12-month basis, the numbers continue to climb, increasing from just under 300 as of December 2013, to nearly 540 for the 12-months ended June 30, 2017.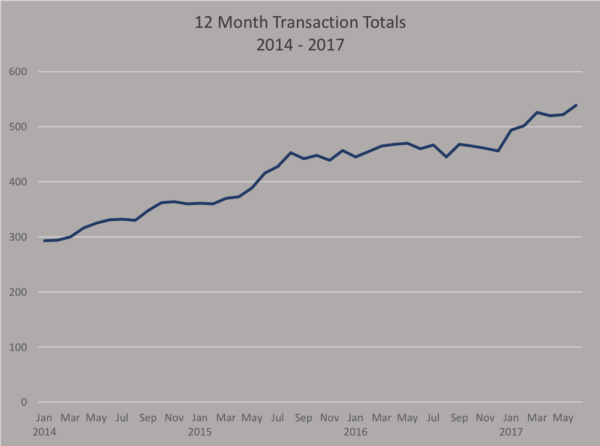 The make-up of the transactions from the buyers' and sellers' perspectives for the past two years are shown in the charts on pages 4-6:

The PE backed firms continue to drive the M&A market with over 54% of the total number of transactions in 2017
Acquisitions by privately-owned agencies over the past 12 months reached a new record at 152 transactions. Were it not for the explosive growth of the PE-backed buyers, this would have been a significant milestone, increasing from an average of less than 110 deals per year for 2014 through mid-2016 to over 150.
Despite the slow-down in all segments of the buyer groups from the 1st quarter, the 135 transactions announced during the 2nd quarter was still the 2nd most active period on record and helped produce the highest 12-month total at 539 transactions since July 1, 2016
Several active buyers in Q1-2017 saw their deal activity slow down during the quarter, in particular Acrisure (29 to 19), Alera (24 to 3), OneDigital and Palliser Insurance Company (both 5 down to 0) and Baldwin Risk Partners (4 down to 0) while Hub saw the biggest increase in transaction count during the quarter, increasing from 8 in Q1 to 13 in Q2.
To keep our perspective, growth in the broker M&A activity is a small sub-set of the overall marketplace, with Thompson Reuters reporting US M&A activity up 17% in 2017 with more than 6,500 deals. Private equity acquisitions are also exceeding 2016 levels and accounting for more than 20% of all transactions, far and away the highest level per their most recent report.
Transactions by Buyer Type
Using a longer-term set of trend lines from the different buyer groups, the growth of the PE-backed buyers is much more dramatic compared to the relative consistency of the activity from the public brokers, banks and all other buyers, other than the spike of transactions during Q4-2012 that was due to the tax law changes that occurred on January 1, 2013.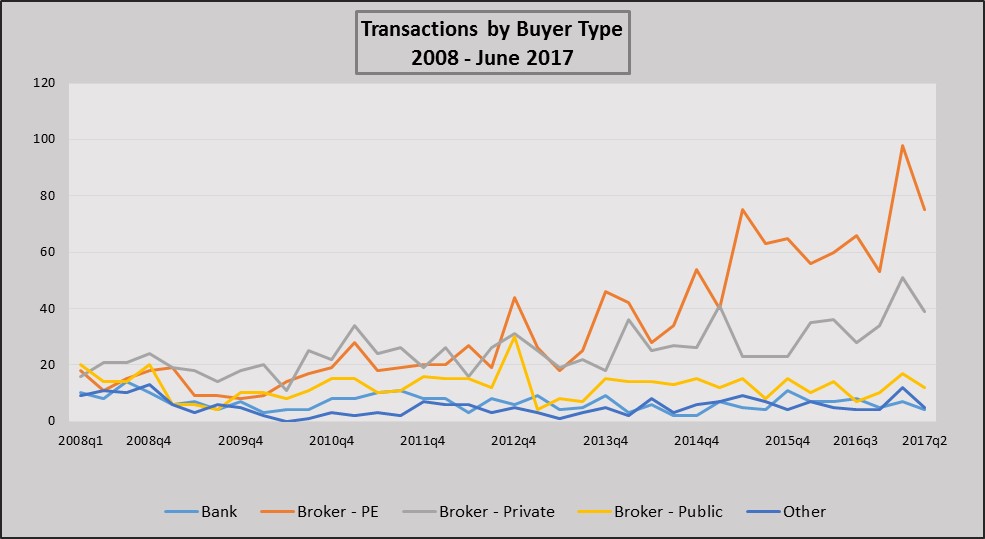 In 2008-2009, all five buyer groups were reasonably similar in their activity levels and movements, with the private buyers generally leading the pack. It wasn't until the spike in 2012, and virtually every quarterly period since then, that the PE-backed activity has outpaced everyone else. The privately-owned group has also separated themselves from the others, either due to more overall activity, or just more reporting of M&A activity in the various trade publications.

P&C firms continue to be the focus of acquisitions with their 2nd highest quarterly count ever
Sales of Employee Benefit ("EB") firms dropped by over 50% during the quarter, due largely to the Alera transactions from January that were predominantly Benefits agencies
Top Individual Buys and Ownership Type
Going one step further in the analysis of the activity through June, the following chart shows the top individual buyers and their ownership type: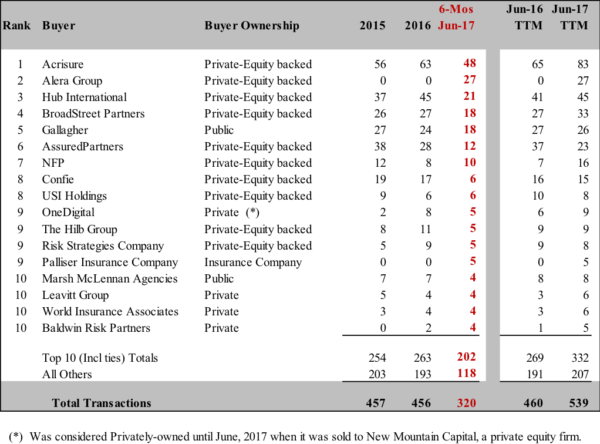 Acrisure completed 29 transactions in Q1-2017 and an additional 19 in Q2-2017. Acrisure continues to be the most active buyer for each quarter over the past two years, with a combination of platform agencies, bolt-on transactions and book purchases.
Alera Group, as referenced previously, was newly formed in 2017 with the simultaneous acquisitions of 24 brokerages on January 1 and three additional deals closing during the 2nd quarter.
A total of 62 separate buyers in Q2-2017, down from 71 in Q1, but still third highest quarterly total
There were also four large notable transactions that were announced or closed during the quarter:
Partners Specialty Group, the 9th largest wholesale firm, was sold to AmWINS in April
Aon sold their benefits administration and HR Outsourcing platform, Aon-Hewitt, to Blackstone Group in May
USI announced they would be acquiring the commercial insurance business of Wells Fargo Insurance Services in June
Fidelity National Financial sold their investment in OneDigital to New Mountain Capital in June
Summary:
By all measures, 2017 will most certainly be another record-setting year for agency M&A activity in the insurance-broker space. Most economic, insurance and business indicators are generally favorable, notwithstanding the modest uncertainty with the possible repeal/replace/reform of ACA. Buyers are still being very aggressive in their valuations of prospective acquisition partners, and thus far there has been no shortage of willing sellers.
Buyers remain willing and able to aggressively pursue acquisition opportunities with a robust pipeline of prospective sellers
New private equity capital continues to flow into the broker space, indicating investors remain bullish on the industry
Barring some calamitous events; geopolitical, terrorist, or a natural catastrophe, there is no indications of any factors negatively impacting M&A activity
However, like all good things, this trend will likely not continue unabated forever and will return to more reasonable valuations and transaction activity at some point in the future. When it does, whether you are a buyer or seller, you will need to adjust expectations and future plans accordingly. And as we've said in the past, if you're neither buyer nor seller, simply focus on growing your agency and improving your metrics every day. Keep your long-term plans in sight and take the necessary steps to position yourself to achieve your goals.
---
Explanation and sources of data:
Data is for U.S. and Canadian transactions in the insurance distribution sector for both retail and wholesale producers, including managing general agencies/managing general underwriters (MGA/MGU). These agencies and brokers provide property/casualty insurance, employee benefits, or any combination thereof.
Data for reported and announced transactions have been obtained from various sources, including press releases, trade press articles, company websites and direct communications with buyers.
---